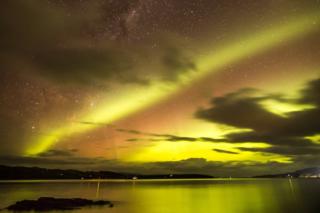 Stargazers have been treated to a spectacular show as the Southern Lights swept across Australia and New Zealand.
Dave Reynolds photographed these images on Sunday near Cygnet, a small town south of Hobart in Tasmania.
"It was such a beautiful sight – it brought me a lot of joy," Mr Reynolds, a landscape photographer, told the BBC.
The Aurora Australis is caused by solar wind – a stream of charged particles escaping the Sun – interacting with Earth's magnetic field and atmosphere.
---
You might also like:
---
Mr Reynolds was one of many onlookers watching aurora displays across southern parts of Australia and New Zealand on Sunday.
He said it appeared to the naked eye as a "very bright white light" for nearly two minutes as it moved across the sky.
"It was incredible," he said. "It was so bright I actually started chuckling to myself."
Originally from Birmingham, Mr Reynolds moved to Tasmania three years ago.
"I didn't realise you could see the Southern Lights from Tasmania until I moved here," he said.
The Aurora Australis and its northern counterpart, the Aurora Borealis, are most visible near the Earth's poles.
---
Did you see the Southern Lights? Email haveyoursay@bbc.co.uk with your pictures or video.
Please include a contact number if you are willing to speak to a BBC journalist. You can also contact us in the following ways: