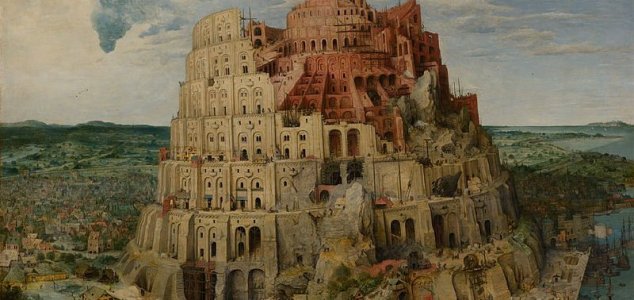 Could the Tower of Babel have actually existed ?

Image Credit: Pieter Brueghel the Elder
A stone tablet discovered 100 years ago in Babylon may confirm the existence of the Tower of Babel.
According to Genesis 11:1-9, the biblical tower was constructed in the land of Shinar by an ancient people whose common language made it easy for them to co-operate and work together.
Dissatisfied with their actions, God decided to confound their speech and scatter them across the face of the Earth. The tower, which was never completed, became known as Babel.
For centuries, scholars, historians and theologians have debated over whether the tower actually existed, but now, ancient text expert Dr. Andrew George of the University of London may have finally found the answer thanks to a stone tablet dating back to around 600 B.C.
In an upcoming episode of the Smithsonian Channel's "Secrets" series, Dr George is set to make an announcement regarding the tower which may even include where it was and what it looked like.
"This tablet provides the first-ever image of the real Tower of Babel," he said. "It confirms the building was a Mesopotamian stepped tower and illustrates the seven tiers of the ancient megastructure. Significantly, it also clearly identifies the man behind it: Mesopotamia's most famous ruler, King Nebuchadnezzar II."
A teaser video for the episode, which airs on Sunday, May 21, 2017, can be viewed below.
[embedded content]
Source: Christian Post | Comments (21)
Tags: Tower of Babel