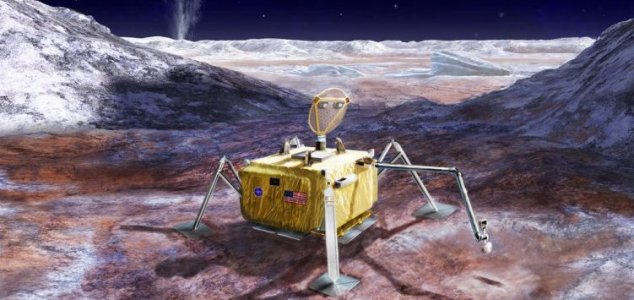 NASA conceptual image of a possible lander design for a Europa mission.

Image Credit: NASA/JPL
Scientists are hoping to develop a mission to learn once and for all whether there is life on Europa.
When it comes to seeking out signs of extraterrestrial life within our own solar system, no target has proven more tantalizing than Jupiter's moon Europa – a world thought to be home to a potentially habitable ocean of liquid water hidden deep beneath a thick icy exterior shell.
Now NASA has revealed new details of its plans to visit this enigmatic world in the future.
"The primary goal is to search for evidence of life on Europa," the space agency wrote.
"The other goals are to assess the habitability of Europa by directly analysing material from the surface, and to characterise the surface and subsurface to support future robotic exploration of Europa and its ocean."
One of the ways in which NASA is looking to accomplish these objectives is by sending a lander to Europa that can take a much closer look at its surface and find out for certain whether or not there really is a subterranean ocean beneath the ice.
"Scientists agree that the evidence is quite strong that Europa, which is slightly smaller than Earth's moon, has a global saltwater ocean beneath its icy crust," NASA wrote.
"This ocean has at least twice as much water as Earth's oceans."
Whether there are extraterrestrial life forms living in this ocean however remains to be seen.
Source: News.com.au | Comments (13)