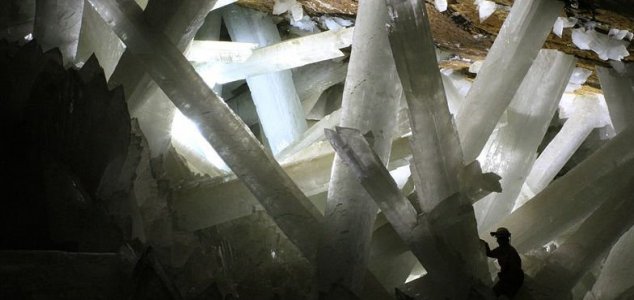 The Naica caves are filled with impressive crystals.

Image Credit: CC BY 3.0 Alexander Van Driessche
In a remarkable breakthrough, microbes trapped inside cave crystals have been brought back to life.
The organisms were found encased inside shafts of gypsum within Mexico's Naica mountain caves – a place that has become synonymous with the study of life surviving in extreme environments.
Incredibly, after extracting microbes from within the crystals, scientists were actually able to revive them despite the fact that they had been trapped there for between 10,000 and 50,000 years.
"Other people have made longer-term claims for the antiquity of organisms that were still alive, but in this case these organisms are all very extraordinary – they are not very closely related to anything in the known genetic databases," said Dr Penelope Boston.
The Naica mountain caves are among the most hostile environments on Earth. Anything attempting to survive there has to deal with permanent darkness, stifling temperatures and high levels of acidity.
The fact that microbes recovered from the caves can be revived even after tens of thousands of years demonstrates just how incredibly resilient life can be.
Source: BBC News | Comments (3)